Introducing various types of web design
With the increasing spread of technology and the expansion of businesses in the Internet space, the need for individuals and organizations for websites to communicate with other people has increased.
There are different methods for designing sites, each of which has its application. In this article, we try to introduce different types of web designs and websites.
Web design is the skill of building and launching web pages. Web design is a graphic format of web pages that represents the content of that page. A website should have a beautiful and professional appearance to attract the audience's attention at first glance. In addition to appearance, content, and type of site coding, site security, SEO, etc. are very important in designing various kinds of sites.
Web Design Backend
Initially, all websites were created with straightforward HTML code. HTML is a hypertext markup language that gives a simple structure to web pages such as headlines, paragraphs, how pages relate to each other, and so on. With the increasing development of websites, the language of HTML has expanded, and web pages have become more complex. Spreadsheets were originally used to layout web pages, but with the advent of the CSS language, this method also became obsolete.
Website design is responsive, and it is also one of the issues that users consider today.
With the advent of animation technologies to web pages, such as Flash, the appearance of the web has changed dramatically, and new possibilities have been given to media creators and web designers. So there are types of web design, we will review them in this article.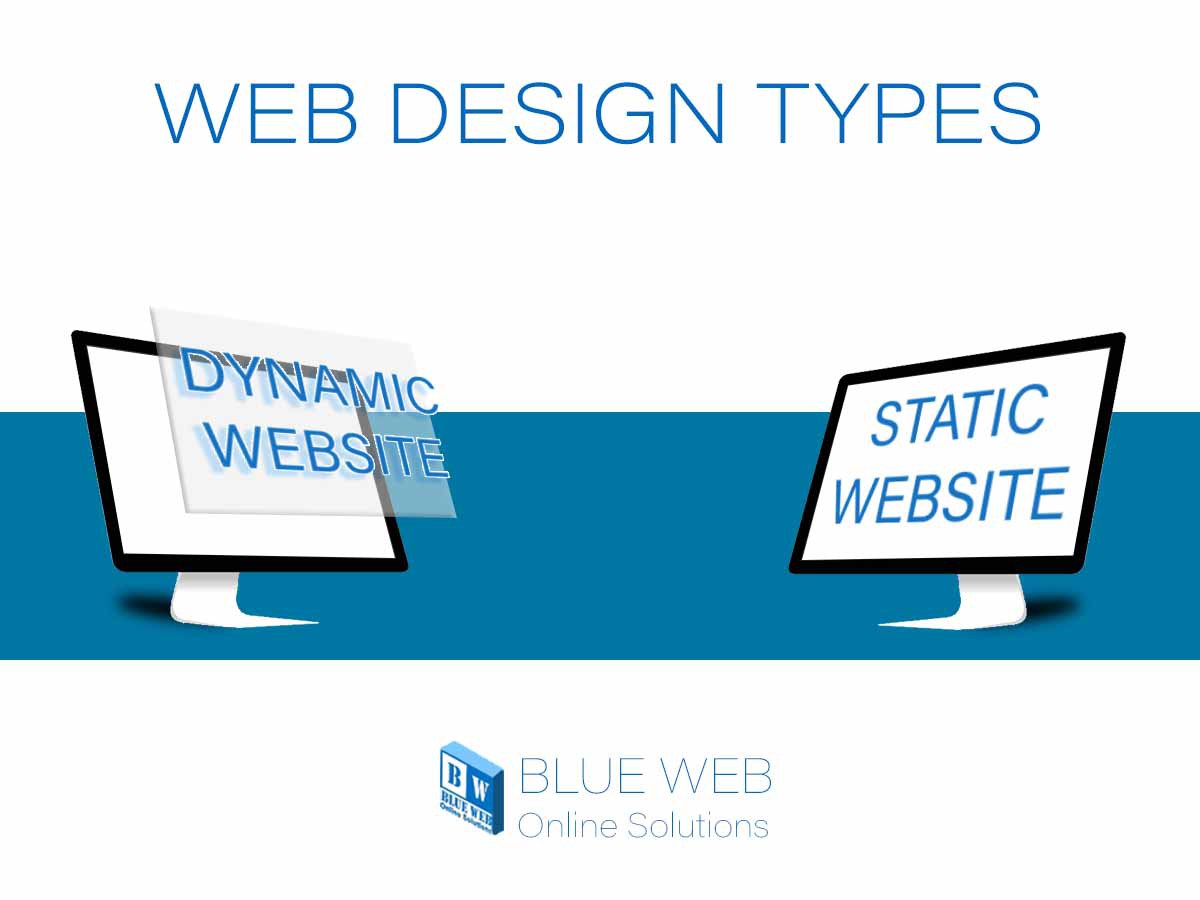 Types of Web Design
Websites are divided into several categories based on their specific application and type of coding:
Types of Web Design | Static Website
These sites are designed so that all the required information is placed on them. To make a change in the site, you must be familiar with the coding of the website. Almost all of these sites are designed with HTML. These sites have a deficient coding volume, so they have a high loading speed. This reduction in code size makes the site more readable by search engines. These sites are much cheaper and more secure than other places. Note that since administrators and site owners cannot change these sites, new updates are not possible and are usually used for cases that require content change once or twice a year.
Types of Web Design  | Dynamic Website
Access to the management section of these types of web design is free, unlike the dynamic model, and the site owner can change the content of the site at any time. Most dynamic sites are written in Php, ASP.Net, and ASP. Languages ​​like CSS and Silver light are also used to add more functionality.
The designer writes the main template of the site, and then the site administrator produces the desired content for the website. The main advantage of these sites is that there are no restrictions on creating, modifying, or deleting content, images, and pages. Using advanced site design languages ​​to build these sites, features such as smart pages, forms, search pages, etc. can be added. Using complex code on these types of sites slows down their loading.
Dynamic website and static website
● Portals
Portals are complete and comprehensive sites that pursue several goals in one site; That is, several dynamic sites are put together to achieve specific goals; For example, news portals that consist of several dynamic sites, each of which offers specific features. All the elements of a dynamic site can be found in a news portal as well.
● Flash sites
These types of sites are static and semi-dynamic, designed by special software. These sites are fixed, created by the site designer, and cannot be changed. The advantage of these sites is their beautiful graphics and attractive animations, But these sites are not read by search engines and have a deficient loading speed.
Website design with WordPress
WordPress is a content management system for setting up and creating sites and blogs when it comes to designing a site with WordPress. WordPress is written in PHP programming language and is also supported by MySQL. Currently, more than 76 million websites in the world have been launched with this CMS. WordPress is used to implement a variety of personal websites, news websites, photography websites, job postings, store site design, social, academic sites, and more. There are many benefits to using a WordPress content management system, which we will discuss below.
WordPress Benefits
● Cost reduction: Building a site with WordPress does not cost much ‌. You also no longer need to consult the site designer for any changes.
● Beautiful appearance: In addition to the beautiful templates available on the Internet, WordPress also allows you to create a custom template.
● Easy management: Site management is straightforward and does not require any additional programs.
● Excellent SEO: WordPress is coded in a completely standard way, which increases the SEO of your site. It also offers several plugins to enhance SEO.
● Free Update: WordPress is an entirely free system. You can download and install the latest version at any time.
● Security: WordPress also has a high level of security. The WordPress team monitors security problems at any time and fixes in newer versions. There are also several plugins for added security.
●Flexibility: WordPress is the most flexible content management system that allows you to design and modify.
We recommend you read "15 reasons that we use WordPress to design websites for our clients"